Hair Transplantation: A breath of Fresh Air
PRO GRO Hair Restoration (A unit of Prolife Hospitals Ludhiana)
Massive hair fall is now a common problem that worries both men and women as their look gets severely changed due to hair loss. Most of them have not experienced any satisfactory result after using the different medications as per the recommendation of doctors. Hair transplantation has become a helpful method that shows better results in people who have passed through proper surgical procedures.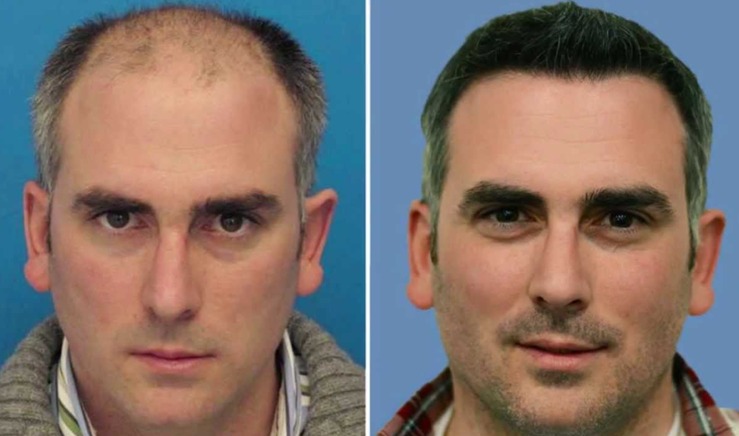 The considerable success of hair transplantation all over the world has inspired doctors to benefit people with this process so that they do not have to worry further for excessive hair loss. Different hair transplant clinics in Ludhiana have evolved to help people in regaining their lost hair.
What Is Hair Transplant?
A hair transplant is regarded as a cosmetic procedure that involves the transplantation of hair in a specific part of your body where you have experienced hair loss from another part of your body. Doctors take the donor's hair from one or more areas of his/her body and move it to the area of hair loss. Mostly hair is taken from the beard, chest, back, or sides or back of the scalp, and then it is shifted to the area where hair shortage has been found. Doctors transplant hair as "grafts" each of which has one to four hair strands apiece. Initially, hair transplantation has been exclusively done on the scalp. However, hair transplant surgeons are now doing eyebrow and beard transplants (Facial Hair restoration) as per the demands of people. 
According to different studies, most of the men and women are now facing significant hair loss due to various reasons. The average loss of 50-100 hairs per day is acceptable, but thinning hair or bald spot indicates serious issues. Androgenic alopecia is considered to be the most common type of hair loss due to genetic causes. Excessive hair loss and bald spot can change your look, and your closed ones and acquaintances may not readily accept your miserable look. The pattern of baldness varies for men and women. Men usually experience thinning or receding hairline in the crown whereas women find a widening part line as well as recession near the temples. Thankfully, hair transplantation can be a favourable solution that can rescue you from excessive hair loss. 
Is Hair Transplantation Beneficial?
Hair transplantation has appeared to be more beneficial than using traditional hair restoration products. Hospitals and clinics for hair transplant in Ludhiana have been established so that more people can get relief from their hair fall problems quite quickly. Some essential factors that you must know about hair growth after hair transplantation are given below for your convenience.
10 to 80% of transplanted hair can fully grow back within an estimated duration of 3 to 4 months. This can happen in case of taking hair from anywhere in your body.
One thing you have to keep in mind that transplanted hair is the same as natural hair. Like natural hair, transplanted hair gets thinner over time.
People whose hair follicles are dormant will have less effective hair transplants. Dormant hair follicles are those sacs that contain hair below the skin but no longer potent to make hair grow. However, medical science has introduced a possible solution to the less effective hair transplant of such people. Plasma therapy can be advantageous for such people to make up to 75% of transplanted hairs fully grow back.
Hair transplant is mainly used to restore the hair of those who have experienced natural thinning or balding or have lost hair due to an injury or any other form of surgery. As most transplants are done on existing hair of a person, they may not be equally effective for treating people with having:
thick scars on scalps created out of massive injury
Excessive hair loss for medication such as chemotherapy and other medication
Widespread baldness or thinning
Both surgeons and patients are getting interested in hair translation as:
Very little preparation is needed to proceed with this surgery.
When it is done, hair looks exceptionally natural.
In most cases, patients do not require pain medication after surgery, mainly when hair transplant surgeons apply follicular unit excision technique on patients.
After hair is appropriately transplanted, it grows for the rest of life, and people do not have to worry much about it.
How much does hair transplant in Ludhiana cost?
Hair transplant in Ludhiana costs different as price range is variable as per hair count and people who can afford that cost continue with the further procedure. Hair transplant cost in Punjab depends upon various factors like:
Surgical techniques followed
The extent of the transplant procedure
Experience of the surgeons
Facilities provided hospitals or clinics that have been chosen for treatment.
Clinics for best hair transplant in Ludhiana may charge a higher amount for completing the procedure, but they assure you that you will recover hair loss problems you have to face so far.
How does hair transplant work?
According to renowned hair transplant surgeons, the all over process is simple compared to other surgeries. They take hair from the back of your head or other parts of your body where an adequate amount of hair is present. Then they transfer that hair wherever required.
Before proceeding with the transplant, hair transplant surgeons sterilize the area from where they are going to remove hair and numb the portion with a local anaesthetic. Some patients may also request sedation to remain asleep during this procedure.
Two methods are followed for hair transplant in Ludhiana: FUT and FUE.
Follicular Unit Transplantation (FUT)
To perform it hair transplant surgeons usually follow the step below.
They remove a piece of about 6 to 10 inches long from the patient's scalp, usually back of the head, with a scalpel.
Then they stitch the area to close it.
Next, they separate the strip into smaller pieces using a scalpel. These are termed as grafts, some of which contain only one hair each.
With a blade or needle, hair transplant surgeons make holes in the scalp where transplantation is going to take place.
Through the process called grafting, they insert hair into the holes from removed pieces of the scalp.
Finally, they cover surgical sites with gauze or bandage.
The particular number of grafts patients receive depends on:
Colour of hair
Quality of hair
Hair type they have
Size of the site for transplant
Follicular Unit Extraction (FUE)
Hair transplant surgeons perform FUE procedure in the best hair transplant in Ludhiana in the following manner.
They shave off the hair on the back of the patient's head.
Then, hair transplant surgeons take individual follicles out of scalp skin. Patients can later see small marks where follicles have been removed.
Next, surgeons make small holes in scalp and graft hair follicles into the holes.
Finally, they cover surgical sites with gauze or bandages.
Recovery
Both processes of hair transplant in Ludhiana may take several hours and days to complete depending on what amount of work the surgeons are performing. The surgeon may inject triamcinolone into the surgical site to keep swelling down if applicable after removing bandages.
Hair transplant surgeons at hair transplant clinics in Ludhiana suggests that choose a clinic where experienced surgeons take care of patients properly in pre and post-surgery periods and emergency facilities are provided.